Services
Ten Co L.L.C.
Oil & Gas Hauling
At Ten Co LLC, we specialize in the safe and efficient transportation of oil and gas. Our drivers are experts in hauling these materials and undergo regular training to ensure they are always up-to-date on the latest practices. We also invest heavily in state-of-the-art equipment, and our trucks are equipped with the latest safety features. As a result, we provide our clients with a level of service that is second to none.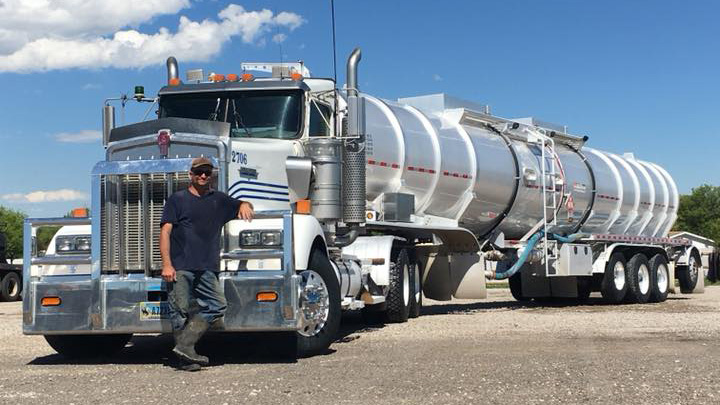 Water Hauling
No job is too big or too small for Ten Co. Our fleet of tanker trucks is equipped to handle any size water delivery, whether for a construction site or an oil field. We pride ourselves on providing on-time, safe, and efficient service no matter the location or size of the job. Count on us to haul:
Production Water
Flowback Water
Fresh Water
Flatbed Hauling
In addition to standard flatbed hauling, we have RGN & pneumatic trailers specially designed to haul heavy loads. The gooseneck hitch allows for a higher weight capacity, and the removable feature makes it easy to load and unload equipment. We also have a variety of other flatbed trailers that are perfect for hauling everything from construction materials to agricultural products. No matter what you need to transport, we have a trailer to get the job done.
Dry Bulk Pneumatic Tankers
At Ten Co, we provide a wide range of transportation services for both dry and liquid materials. Our fleet of Dry Bulk & Pneumatic Tank Trailers are specially designed for the safe and efficient transportation of dry powder materials. We offer dust and erosion control products, including magnesium chloride.
Dirt and Road Maintenance
When it comes to construction projects, time is often of the essence. That's why our team offers quick and efficient delivery of dirt and aggregate. Our state-of-the-art bottom dump trailers ensure that our drivers can quickly get materials into place. And because our wheels never stop turning, we're able to offer a rapid turnaround time.
Snow Removal
As residents of the Rocky Mountains, we are privileged to have some of the most stunning natural scenery in the country right in our backyard. Unfortunately, that beauty comes at a price - namely, snow. It seems like lately, the snow has been falling more and more often, and not just in the mountains or in the winter. This erratic weather can be frustrating and disruptive, but you can take comfort in knowing that our snow removal team is here to help. We provide commercial snow removal services to keep your property clear and safe, no matter what the weather brings. With our team on your side, you can rest assured that you'll be able to weather any storm.